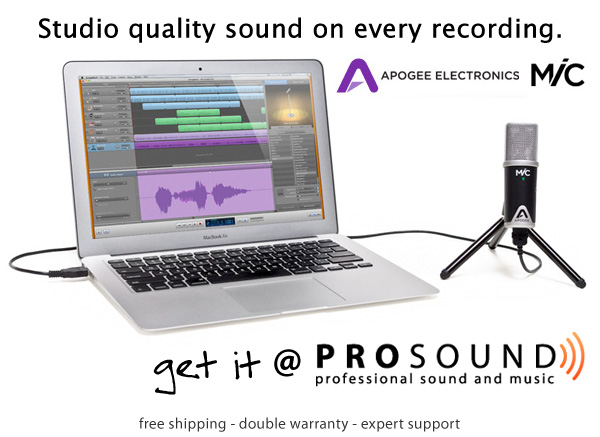 Apogee MiC
ProSound Price: $199
The Wall Street Journal cites the new USB Apogee MiC as "foolproof" when it comes to laying down high-fidelity licks and audio tracks by plugging it into iPhones, iPads and Macs. Chuck Dawson (a.k.a. Geek Dad) of Wired effuses that the palm-size microphone is "dead simple" to operate, adding that he discovered more uses for it than he originally dreamed possible.
Since making its market debut at the National Association of Music Merchants (NAMM) earlier this year, the cardioid condenser device has been proven to pack walloping punches in terms of loud, clear audio. Lauded also for its portability, the MiC allows consumers to easily build tracks through iPad apps such as GarageBand or through iProRecorder when using iPhones.
The metal-constructed MiC is a premium digital converter that uses PureDIGITAL technology for achieving unprecedented results in everything from video dubbing and advertising jingles to web-radio interviews, blogging, musical vocals and instrumentals. The product has even been embraced by law firms for recording clear depositions as well as by everyday, non-musically inclined consumers taking field notes for leisure and business.
"The MiC behaves like a $1,000 pro-audio cardioid condenser," says Michael Krewitsky of ProSound, who has been using it as "a sound grabber out there in the world." Customers of the new MiC have included a Hollywood film composer using it for sketch scoring and a financial talk show host utilizing it for Podcasting.
"It's like having a professional-level recording studio that you can set up on your desk," Krewitsky adds.
Simply plug the MiC into your device and you are ready to record. No drivers are needed and the MiC is completely bus powered. When choosing to work hands-free, the product features a compact tripod that makes it ideal for desktop recording. The MiC also connects to any microphone stand.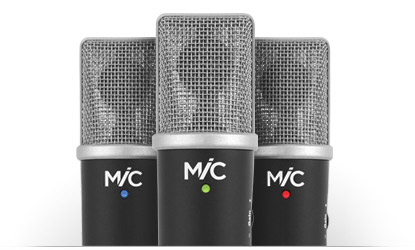 A LED indicator on the front of the MiC allows users to easily detect the status of their connections. Blue means "not ready." Green shows that the MiC is connected and working with your software. And red indicates that you are overworking the MiC and will need to turn down your sound level with the input gain control knob, a rotary thumb control located on the side that allows you to fine tune without having to refer to your software.
When using the MiC with iOS devices, you will need either an iPhone 4, iPhone 4S, iPad, iPad2 or any iOS versions of 4.3 or later. For Mac OS, an Intel internal processor is required as well as OS versions of 10.6.4 or later. Compatible Mac software includes GarageBand, Logic Pro, Mainstage, Pro Tools (versions 9 or higher) or any Core Audio compatible application.
The MiC also comes with a USB cable and a 30-pin cable that plugs directly into your device. Since the MiC essentially attaches to your device with a cable rather than directly, it provides better mobility and more freedom of placement when recording. Longer cables can be purchased separately.
In an early review of the MiC posted by Guitar Salon International, the writer declares: "The fact you can play with placement means that you can get some proximity effect if you want it. It doesn't feel hyped at the top or the bottom. It just sounds like a good mic."
Among the artists that have been quick to adopt Apogee's sleek, pocket-sized MiC are classical guitarist Yuri Nugmanov and popular indie lyricist Gabe Bondoc, who applauds the MiC for its "professional studio-quality sound" on many of his recordings. Both musicians have used the product with GarageBand.
Indeed for both novice and professional audio recorders on the go, a breakthrough has arrived with the new MiC, in that it doesn't compromise audio quality just because you are on the move. By all accounts, it has been named the world's first condenser microphone to connect digitally to iOS devices and Mac computers.
Apogee Electronics ranks as one of the best-known makers of high-end studio converters and interfaces on the global market. Based in Santa Monica, CA, the company made its initial design splash in the sound industry by introducing anti-aliasing filters that were credited with solving many of the early problems associated with digital audio. The latest MiC reflects a modern, convenient piece of technology that gives sound recorders an all-in-one solution for capturing a range of clean and condensed audio within freelance, personal and commercial projects.
For the socially-conscious, it should also be known that Apogee has supported numerous non-profit organizations such as Doctors Without Borders, Amnesty International, UNICEF, Save the Children, Corazon de Vita, Conservation International and others. Additionally, Apogee was founded in 1985 by Betty Bennett and the company became certified in 2010 as a Women's Business Enterprise by the Women's Business Enterprise National Council.
ProSound offers free shipping of the Apogee MiC in the lower 48 states, along with a double warranty! Weekday customer service via email or phone is also provided. Call now to learn more or to order the microphone that is the first in its class: (619) 583-7851. Or, you can contact us here!
Check out this video of Ted Gowans from Tegan and Sara laying tracks with the Apogee MiC, JAM and Apple GarageBand on an iPad:


This entry was posted on Tuesday, June 26th, 2012 at 10:52 am and is filed under
Microphones
. You can follow any responses to this entry through the
RSS 2.0
feed.