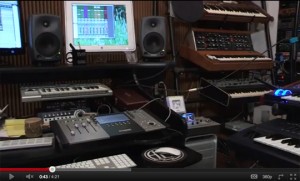 Check out ProSound, Inc.'s Michael Krewitsky in an informative video crafted in June 2011 for Achieve3000 (www.escience3000.com), the leader in differentiated solutions for grades k-12.  The goal of this video is to reach out to middle school kids and get them interested in a science education as a stepping stone to a fun and creative career.
What do recording studio design, broadcast facility design, sound systems design for churches and schools and an iMax theater's sound system design have in common?  The use of physics to deliver the best sound clarity for a space.  View ProSound's Michael Krewitsky in this video as he speaks as a musician, audio engineer and professor of music technology and reflects on how math, science, sound and physics are intertwined:
Given that most elementary school children have home access to a computer, they can use this readily available machine also as a tool for sound production.  Introducing children to music, especially electronic/computer composition, may encourage an appreciation for the physics of sound (and patience with programming).
Opening these doors early-on for a child may draw them further into science, arts or other creative endeavors. Learn how the inclusion of music production into elementary school curriculum can serve not only as an artistic outlet, but a gateway to foster interest in other aspects of science and math:
Click here to learn more about our sound system design and installation work with schools, broadcast facilities and more.

This entry was posted on Sunday, September 18th, 2011 at 2:25 pm and is filed under
Analog Gear
,
Featured News
,
Industry News
,
Music Software
,
Production Hardware
,
Sound System Installations
. You can follow any responses to this entry through the
RSS 2.0
feed.