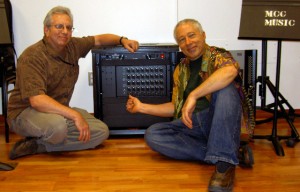 Annapolis Junction, MD, October 30, 2008 – FiberPlex, Inc., announces that an extensive LightViper™ fiber optic audio transport system was recently installed at Southern California's MiraCosta Community College. The college recently completed a $21 million project to build a state-of-the-art music technology classroom facility on its main Oceanside, California campus. This public school offers two-year AA degrees and certificates in digital audio production and recording arts/record production, as well as numerous academic programs that feed its grads into the traditional four-year California State University system. The new music technology building features a total of eight production control rooms fed by two large recording studios. All audio is routed through an extensive LightViper digital transport system via fiber optics.
San Diego-based ProSound, Inc, a LightViper VAR and audio design firm, handled all aspects of the audio design, as well as installation of the fiber audio components. Mike Krewitsky, owner and Chief Systems Designer for the 30-year-old pro audio company, shared some of his thinking concerning the college's build-out, a project nearly ten years in planning:
"This project was truly about designing, and then putting into place, an affordable infrastructure that will remain technically relevant for the next ten to twenty years. Private or public, computer hardware in schools may get replaced every 3-4 years. Some audio gear, like consoles and related processing, might have a little longer life. However, what Christy Coobatis [the music school's Music Department Chair] and I decided to do about the building's 'arteries and veins' – its crucial audio network – was to invest in a pure digital audio fiber network. We concluded that miles of copper wiring and transformers are simply no longer tenable in a forward-looking music production environment. In a word, copper is outdated. It's lossy, noisy, difficult to maintain, and on top of these technical drawbacks, it has become surprisingly expensive over the last couple years."
Sam Spennacchio, FiberPlex's Marketing Manager for its LightViper brand equipment, commented on the unique fiber installation:
"The MiraCosta job is one of the largest single customer sales of LightViper components we've had to date. Our engineers worked closely with ProSound and the school's design team to achieve a system solution that fits the school's needs. It took nearly a year to resolve all the design issues for the complex facility, but in the end it was well worth the effort, for everyone. The MiraCosta facility is now years ahead of the curve with its LightViper fiber optic network."
Krewitsky added:
"We could not have done this without the technical help from FiberPlex; they knew right away what we were after and were extremely patient throughout the process.
"Before Christy and I decided on LightViper, we narrowed it down quickly to just a couple of manufacturers that are in the game of 'networking solutions.' One possible approach we evaluated was ruled out because of its extraordinarily high cost and the fact that the company is thousands of miles and several time zones too far away. Another possible point-to-point system seemed too rudimentary and 'prosumer-ish'; a one-size-fits-all box solution that is heavily skewed to live sound production, which isn't at all what we needed. The Ethernet Cat-5 systems we looked at were unacceptable as well. In fact, the last thing we wanted to do to our high-end ProTools® 24/96 standard was to step on the audio quality; this alone ruled out proprietary Cat-5 gear because they use data compression to obtain their bandwidth over copper. In addition to this unacceptable limitation, Ethernet networking, although in the digital domain, is still prone to external interference from weather incidents, power spikes from God-knows-where – all ugly stuff we simply don't need mingling with or destroying our 24/96 audio!"
Photo 1: Michael Krewitsky, owner ProSound, Inc., (shown on left) with Christy Coobatis, Music Department Chair for MiraCosta College in Oceanside, CA. The Southern California community college recently completed a $21 million dollar project to build state-of-the-art music technology classroom facilities that includes extensive LightViper™ fiber optic audio transport systems.
Editor's Technical Notes:
Fiberplex manufactures the LightViper™ fiber optic audio cable transport systems. The LightViper systems offer total signal path isolation between both stage and mixer as well as between the mixer and power amplification; the cable is totally immune to ground loops, RFI, EMI and electromechanical noise, and runs of up to 1 1/4 miles (6,600 feet) can be easily accomplished without signal loss or degradation. FiberPlex includes a limited lifetime warranty with all of its LightViper system components.
Additional information can be obtained at www.fiberplex.com or www.lightviper.com.
Additional story link: http://74.112.252.100/~prosoundadmin/ and www.miracosta.edu
NOTE: LightViper™ is a registered trademark of FiberPlex, Inc. Other company and product names may be trademarks of the respective companies with which they are associated.
This entry was posted on Thursday, November 6th, 2008 at 1:55 pm and is filed under
Industry News
,
Production Hardware
,
Sound System Installations
. You can follow any responses to this entry through the
RSS 2.0
feed.