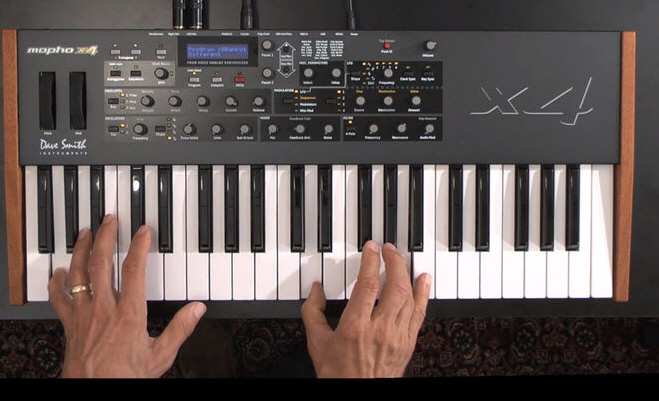 Mopho X4 Keyboard Synthesizer from Dave Smith Instruments
Price: $1,299
Double warranty! Free shipping in the lower 48 states
King of synth, Dave Smith, has introduced the Mopho x4 Keyboard Synthesizer that builds upon the lauded, award-winning voice architecture of the Mopho and Mopho Keyboard. In this evolved polyphonic design, the board is stretched out to 44 keys with three additional voices added, each composed of two analog oscillators. Given its 100 percent analog signal path, the result equates to a quadruple sonic powerhouse used for creating maniacal sequences, big thunderous basses and searing leads.
Augmenting their sensational output, the voices also contain two sub-octave generators and selectable 2 or 4-pole Curtis low-pass filters that have become signature attributes in units by Dave Smith Instruments.
The voices in Mopho x4 also boast:
Three 5-stage envelope generators
Four LFOs
A re-latch arpeggiator
And a 16 x 4 step sequencer.
Add to the scheme 20 modulation sources and nearly 50 destinations, and you end up with a dynamic and versatile synthesizer that you won't find anywhere else.
The highly portable Mopho x4 is an expandable creature via its Poly Chain port, from which Mopho, Tetra and Prophet '08 can all be used to increase voice count. Or when bigger means better, you can connect Mopho x4 to three Tetras for striking up a 16-voice analog super synth.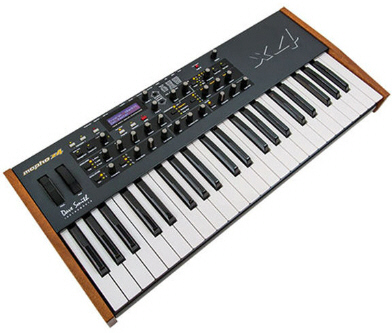 Every parameter of the new Mopho x4 is fully programmable and edit-friendly from the front panel, where a plethora of knobs and switches also reside for allowing you to easily enhance, manipulate or beautifully distend the sounds. Amateurs and pro-players alike can feast on the unit's powerful functionality while gliding through presets and tapping along the semi-weighted, velocity-sensitive keyboard.
Watch Dave as he demos some magic of the Mopho x4:
Soundtower.com will soon provide a free, downloadable LE editor to edit and view the sounds while building and layering additional sequences.
Dave Smith's pioneering circuitry is designed and manufactured in San Francisco — it always has been since he launched the company in the late 70s and introduced the world's first microprocessor-based musical instrument, the Prophet-5. He was a key force behind the Musical Instrument Digital Interface (MIDI) specification in 1981, thus becoming known as "the father of MIDI" while being held in high esteem by musicians worldwide for his continued innovations in music synthesis.
Place your pre-order for the Mopho x4 Keyboard Synthesizer from ProSound today . We will have them in stock very soon!
This entry was posted on Thursday, August 2nd, 2012 at 3:33 pm and is filed under
Synthesizers
. You can follow any responses to this entry through the
RSS 2.0
feed.