Greetings again all you audiophiles, synth geeks, and all around sound aficionados! ProSound, your leader in sound engineering supplies in San Diego, has news of another fantastic deal coming your way! Our friends over at Korg have introduced some outstanding pianos to their line up: two models of the Stage Vintage series, the SV-1 73 and SV-1 88. Both amazing examples of Korg's mastery in bringing a modern twist to a vintage-style electronic piano for todays audio sound professional.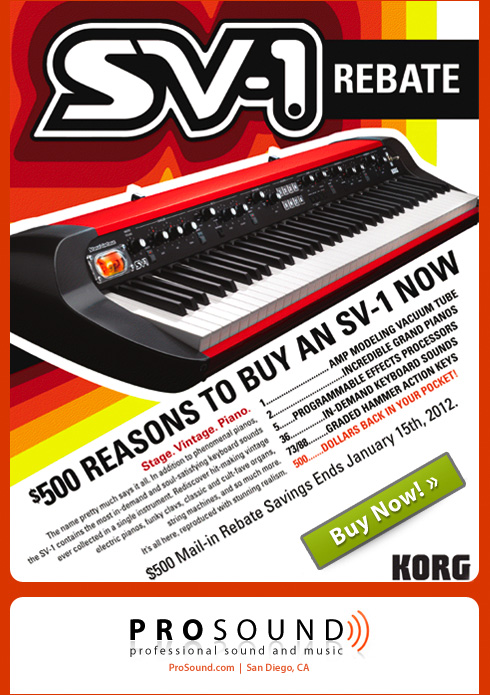 The Stage Vintage series SV-1 73 and SV-1 88 bring to you decades of legendary sounds, such as thick warm analog or tape-driven engines, all the way to digital mainstays we come to expect and even rich, full acoustic pianos. These pianos have everything you need to bring that real authentic feel to your mix! As well as Korg touting this as being one of its finest weighted keyboards, using Korg's RX (Real eXperience) Sound Engine Technology Korg has been able to accurately recreate all those beautiful classics we know and love. But they have also taken it one step further with a more hands on and tactile interface to create that real, old school feel. There is even a tube-driven (12AX7) Valve Reactor circuit which adds to the authentic warmth and realism of period-accurate amplifier models! And ProSound, San Diego's synthesizer source & your leader in pro sound and audio recording equipment, is excited to share a very special deal with you today…
Not only are we offering free shipping and double warranty* on this beauty, but as an added bonus there is a $500 dollar rebate, so you can have a little something special left over for the stocking stuffers. Along with that, and our inside deal with all our followers on Facebook and Twitter, we are proud to offer you pro-audio solutions for home studio prices that are just too good to let pass by! Check out Korg's SV-1 73 and Korg's SV-1 88 now – offer ends January 15th 2012!
This entry was posted on Monday, November 7th, 2011 at 10:10 am and is filed under
Industry News
,
Synthesizers
. You can follow any responses to this entry through the
RSS 2.0
feed.