Bracing for the gigantic leap in sound and speed coming with the release of Avid's Pro Tools HD 10 software upgrade? Between the masterful performance made possible by Disk Cache, the workflow optimization provided by Clip Gain, and the premium System 5 console-modeled Channel Strip plug-in these are just a few highlights leading Pro Tools HD 9 composers and engineers to get in on this upgrade.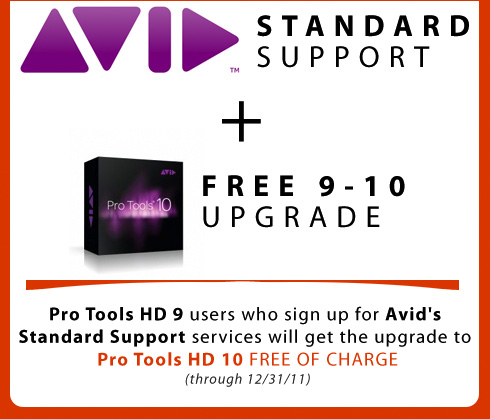 With the upgrade to Pro Tools HD 10 on the horizon we are pleased to announce a support package special straight from Avid for owners of Pro Tools HD 9. If you are planning an upgrade to Avid Pro Tools HD 10 from 9 and would like peace of mind and assurance to help minimize your down-time, Avid is offering a generous bundle package to help you surmount any technical obstacles when upgrading. Sure, you could wing the upgrade yourself and spend countless frustrated hours wishing you had taken us up on this support package. Or you might prefer standing on the shoulders of experts who have already trudged through and mastered all possible snafus possibly encountered in transitioning to Pro Tools HD 10!
Pro Tools HD 9 users who sign up for Avid's Standard Support services will get the upgrade to Pro Tools HD 10 FREE OF CHARGE (through 12/31/11). Avid composers have been taking advantage of these support plans (bundled with cost-free upgrades) for years to gain access to top technical experts for assistance with overcoming upgrade challenges.
Feature Benefits for Avid Support
Phone support available 5 days a week, 9 hours a day
Next-business-day response times
Unlimited number of service requests
Customer-defined severity level
Remote diagnostics
As a Pro Tools HD 9 user this is your one-time offer to purchase Avid's Standard Support plan for $599 USD (with no reinstatement fees typically required for customers not currently on support) and gain access to one year of customer support and upgrades. Sign ups prior to December 31st, 2011 are entitled to the upgrade from Pro Tools HD 9 to 10 at no additional charge. Are you ready to save hundreds whilst avoiding those sleepless nights troubleshooting an upgrade on your own? Protect your investment – contact us today to sign up or learn more! Click here or call: (619) 583-7851 now!
Pricing and Ordering Requirements
please contact me with the following info…
Customer's name or business contact name
Business name (if applicable)
Address, email and phone number
Customer's iLok User ID
Customer's HD or Native Core Serial number is required
… and I will arrange delivery as soon as possible!
NOTE: "Like" or "Follow" our Facebook or Twitter streams and we'll give you 10% off your next purchase through 12/31/2011! Write to us to let us know you've subscribed and we will give you a 10% off coupon (up to $350 maximum value!) for whatever one item that you identify that you wish to purchase before 12/31/2011! — *see the fine print…
Also note, ProSound is an Avid-authorized Training Partner that services musicians and engineers nationwide, click here to read more!
This entry was posted on Thursday, November 3rd, 2011 at 2:20 pm and is filed under
Featured News
,
Industry News
,
Music Software
,
Production Hardware
. You can follow any responses to this entry through the
RSS 2.0
feed.