Happy Halloween from ProSound, Inc. San Diego and Universal Audio! Seeking the warmth and softness of a vintage, all-tube pre-amp? Universal Audio's LA-610 MKI, a design inspired by Bill Putnam's 60′s console and used by the likes of Sinatra, The Beach Boys and even Van Halen, is a rare find in the U.S. proudly carried by San Diego's ProSound, Inc. Buy UA's new LA-610 MKII Classic Tube Recording Channel & get a FREE UAD-2 DUO DSP Accelerator ($899 value-free) through the end of this year!
The LA-610 MkII, noted for its musical character and warmth, packs tremendous sonic versatility and is an ideal component for the pro or home studio. Direct from UA: "The simple operation and program-dependent nature of the LA-610 T4 compressor provides the same extremely musical control that has made the LA-2A such a well-loved classic for more than 40 years."  Adding onto UA's authentic Teletronix T4 opto-compression, the UA LA-610 MKII ensures warm pre-amp tone and smooth, natural-sounding compression updated with modern features.
 
From now through December 31st, 2011 purchase UA's best-selling LA-610 MkII Classic Tube Recording Channel from ProSound, Inc. and UA will give you your choice of a UAD-2 DUO DSP Accelerator Package (PCIe card), or the UAD-2 Satellite DUO DSP Accelerator Package (Firewire unit) — an $899 Value — absolutely FREE! Unrestricted access to award-winning UAD-powered plug-ins (for Mac or PC) will also be gained with sign-up. Get the Universal Audio's LA-610 MKI from ProSound.com now!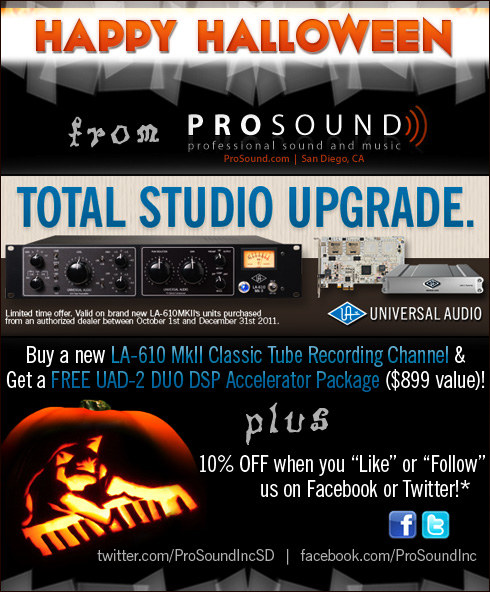 SPECIAL OFFER – up to $350 OFF your next ProSound purchase*!
Follow us on Facebook or Twitter to receive up to $350 off your next order, as well as receiving the latest industry news, updates and deals from ProSound. *See store for details – thru 12/31/11 – click here for more info!
facebook.com/ProSoundInc | twitter.com/ProSoundIncSD
photo of keyboard cat pumpkin carving used with permission from reaktdesign.com.
This entry was posted on Monday, October 31st, 2011 at 12:33 pm and is filed under
Featured News
,
Industry News
,
Production Hardware
. You can follow any responses to this entry through the
RSS 2.0
feed.