NOW SHIPPING!
Write to us and we will put together your customer-specific custom upgrade to Avid Pro Tools HDX DAW or Pro Tools 10! We are here to answer all of your questions and will guide you on choosing the best upgrade path for your specific custom rig, call now: (619) 583-7851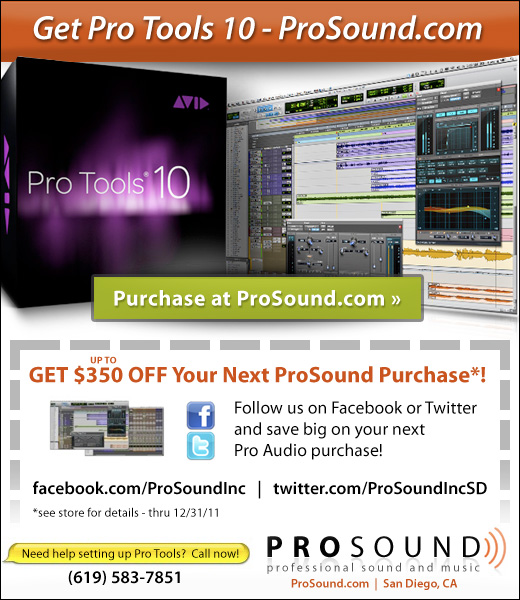 Greetings audiophiles of the world!  Everyone here at ProSound.com is abuzz over Avid's Pro Tools HDX digital audio workstation and Pro Tools HD 10 software.  With all the possibilities an audio platform like this has to offer what's there not to be excited about!  As Pro Tools users have come to expect with each release, HD 10 delivers bigger, better, and faster than ever before! Look no further than ProSound.com for getting up-and-running fast with the most expansive digital audio workstation platform in the industry!
Buy Avid Pro Tools 10 Software from ProSound.com now »
Upgrade your Avid Pro Tools 9 to 10 Software from ProSound.com now »
With the new Pro Tools HDX system Avid aims to empower users with bigger mixes & more complex productions. From what we at ProSound can tell it seems Avid hit the mark (and then some) with this release.  According to the guys over Avid the new system delivers up to five times (count that, 1 2 3 4 five times) more DSP per card, over 1,000 db of additional headroom (cumulative) and even higher resolution sound! In addition, you also get up to four times the track counts and two times the I/O compared to Pro Tools' HD Accel predecessor. If you've decided that's simply just not enough, let us scale the system up for you by leveraging multiple Pro Tools HDX cards and HD series interfaces to provide more power, track counts & I/O.  There are many more features making this version an upgrade to seriously consider.  When it comes to giving users unprecedented flexibility, ProTools HD 10 will not disappoint. 
The Pro Tools HD 10 software brings usability to a whole new level by letting users record and play back up to 256 audio tracks per card (up to 768 with three cards), and even has an extended disk cache for loading entire sessions into RAM!  Pro Tools' new Satellite Link option makes artist collaboration a cinch; easily control up to twelve Pro Tools HD systems from one, and allow users to mix audio from up to two Pro Tools HDX or HD systems. Combined with their new AAX (Avid Audio eXtension) plug-in format, AAX DSP and AAX Native, and the slew of other new features and upgrades, Pro Tools HDX and HD 10 promise to keep Avid on top of the pro audio world.
Where can you get your hands on such wonder? Look no further than ProSound, Professional Sound & Music, for all Pro Tools upgrade and full suite purchasing.  We have been an industry leader in sound system installation and pro audio equipment sales, service, and repair since 1978. Contact us if you have questions about Pro Tools HD 10!   We also offer full support in getting anything related to Avid or Pro Tools up and running.  Let us help bring your imagination to life today…
Regular ProTools 10 upgrades available as well…and ask about special bundles including mBox(Gen3), mBox Mini (Gen3), or mBoxPro(Gen3) and PT9 that include a free PT10 upgrade.
SPECIAL OFFER – up to $350 OFF your next ProSound purchase*!
Follow us on Facebook or Twitter to receive up to $350 off your next order, as well as receiving the latest industry news, updates and deals from ProSound.  *See store for details – thru 3/31/12 – click here for more info! 
facebook.com/ProSoundInc   |   twitter.com/ProSoundIncSD
This entry was posted on Wednesday, January 11th, 2012 at 10:00 am and is filed under
Featured News
,
Industry News
,
Music Software
. You can follow any responses to this entry through the
RSS 2.0
feed.