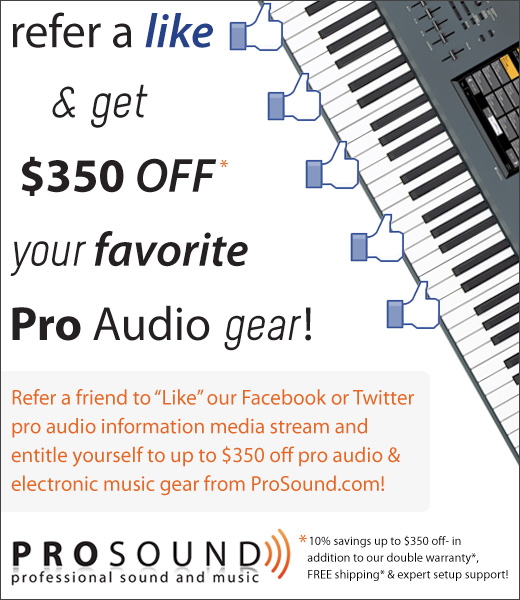 Check out ProSound on Twitter & Facebook to get industry-insider news updates, fan-only pro audio gear specials and much more! If you or a friend subscribe to either stream via a "Like" or "Follow", we'll give you 10% off your next purchase through 03/31/2012!* Write to us to let us know you or someone you have referred has subscribed and we will give you a 10% off coupon (up to $350 maximum value!) *see the fine print…
*the fine print:
Your chosen one unit must be purchased at MAP price before 03/31/2012.
Only one per customer, but tell your friends, the more the merrier…
Maximum coupon value is $350. Coupon has no actual cash value except as discount on purchased item.
Coupon may not be sold, traded or transferred or redeemed for other product or services.
Normal terms of sale apply, some restrictions may apply, but we maybe haven't thought of those yet, so go ahead and ask.
Only applies to new items for which we are franchised authorized dealers, but there are thousands of those items…. ask for what you desire, and we will try to comply.
TELL YOUR FRIENDS & SAVE BIG!
ProSound, Inc. is a pro audio and music store located in San Diego. In addition to pro musician audio gear, pro sound software, professional audio recording equipment and generally being a music equipment store in San Diego we also provide expert support in getting said gear up, running and integrated with your current system. Our team has already gone through all the hurdles with most digital audio workstations, such as Pro Tools 10 (we are a Waves & Avid Certified Training Partner for instance). We've been servicing the pro musician audio and sound engineering industry since 1978 with sound system and recording studio design / installation and pro audio gear repair and restoration as well. Looking for analog synth repair in San Diego? In need of Yamaha sound module repair? ProSound, Inc. is world-renowned for their expert repairs of just about any piece of pro audio gear, whether analog or digital synths, drum machines, you name it getting your professional sound back, and fast, so that you can keep creating waveforms!
This entry was posted on Wednesday, January 4th, 2012 at 1:12 am and is filed under
Featured News
,
Industry News
. You can follow any responses to this entry through the
RSS 2.0
feed.