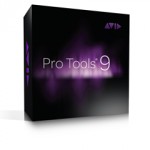 Avid again has redefined the industry standard for recording with the release of Pro Tools 9! Long trusted as the industry standard for recording artists worldwide, more music and audio professionals use Pro Tools than any other digital audio workstation to help them compose, record, edit, sequence and mix music or audio for post-production. So whether you're an experienced pro or just getting started at home, Pro Tools will give your project the quality it deserves. And with the newly released Pro Tools 9, you will have more control and flexibility than ever before!
Aside from proving itself as the most robust music editing suite to date, Pro Tools 9 packs a completely re-architected, open version of the industry's standard in music-editing software. Some highlights include the ability to work with any Core Audio or ASIO-compatible interface, or without as a stand-alone platform for you "on the go" creative types. Whether harnessing the power of dedicated DSP or your computer's CPU, you get high performance with low latency to keep your creative juices flowing. Bring the biggest of ideas to life with up to 96 or 192 simultaneous audio tracks, 128 instrument tracks, 512 MIDI tracks, 256 internal busses and 160 aux tracks and even a video track. Quickly progress from mic-to-master with over 70 best-in-class virtual instruments, sound processing plug-ins and many other creative tools!
Using Automatic Delay Compensation and powerful automation, Pro Tools 9 makes the creation of huge, complex, phase-accurate mixes possible. Other newly included, standard add-ons include Time Code Ruler, OMF/AAF/MXF interchange, variable stereo pan depths and the updated 7.1 surround panner. Working with C|24 and ICON? You can now use either of Avid's Artist or Pro Series consoles and controllers to enhance your editing and mixing workflow, thanks to added EUCON integration.
Definitely one of the most amazing aspects of Pro Tools 9 is it's capacity for collaboration. Team up with other artists, editors and mixers easily with Pro Tools' built-in OMF/AAF/MXF file interchange support; exchange projects created in other audio and video software with Pro Tools and vice-versa.
You can trust ProSound.com to deliver you the best available price on Pro Tools 9, and feel confident in getting the support you need to get up and recording fast! Click here to buy Pro Tools 9, now! ProSound.com is also an Apple Authorized Reseller, so look no further to furnish your need for a new machine to make the most of what Pro Tools 9 offers!
This entry was posted on Thursday, April 7th, 2011 at 1:02 pm and is filed under
Featured News
,
Music Software
. You can follow any responses to this entry through the
RSS 2.0
feed.