Seeking the sound, feel and flow of analog recording in a high-resolution computer audio interface? Introducing Universal Audios's Apollo®, the first pro audio sound interface that enables music recording producers and performers to utilize their audio recording software to track through a range of classic UAD analog emulation plug-ins – from Neve, Studer, Manley, Lexicon and more – in real-time.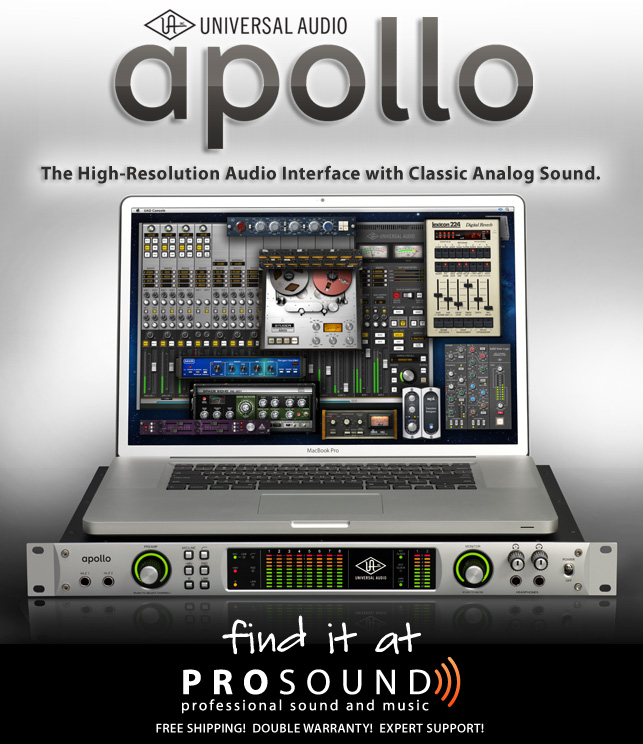 Whether a studio professional or home recording audiofiend, we urge you in your search for the best audio interface to handle your computer audio in/out to check out UAD's Apollo® FAQ. And, when you've decided that the Apollo® is the best audio sound card to add undeniable warmth to your recordings, cruise over to our store to purchase. Why ProSound.com? You'll get Free Shipping* and setup support from pro audio industry-weathered experts who've been at this for more than a third of a century! Have questions? You can contact us here with all of your sound card and pro audio questions!
Read Key UA Apollo® Features & Purchase, Here!
This entry was posted on Wednesday, February 22nd, 2012 at 12:25 pm and is filed under
Industry News
,
Production Hardware
. You can follow any responses to this entry through the
RSS 2.0
feed.