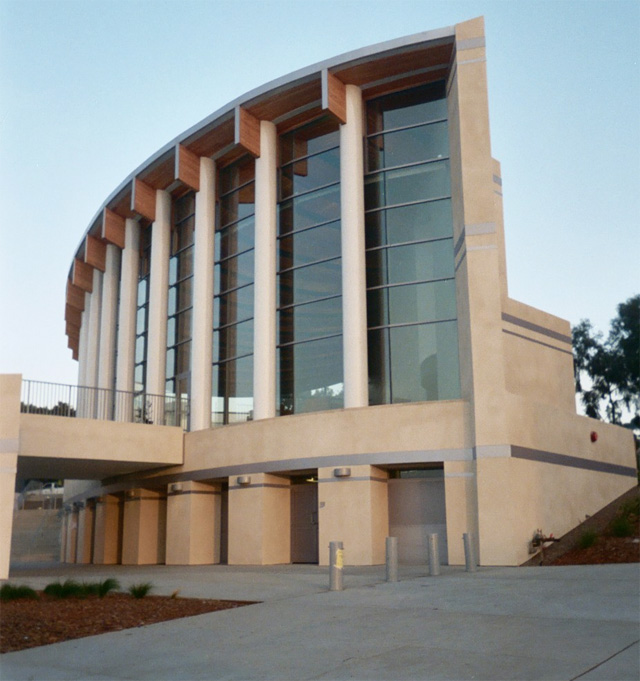 The Great Hall at Eleanor Roosevelt College at UCSD (also known as 'International House') was designed by world-renowned architect Moshe Safdie and built in 2003, and is a visual masterpiece on the campus, overlooking La Jolla's Pacific Ocean. In 2011, ProSound was contracted to upgrade the facility for presentation sound and video.
The integration of audio/visual equipment into the windowed-side of this space presented unique challenges. Our stated mission was to "tread lightly" on the visual aspects of the window-centric architecural design and we are excited to have devised solutions that work very nicely to suit the facility's needs.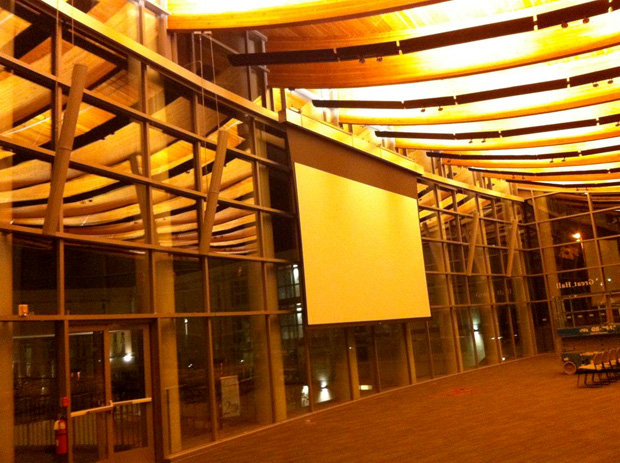 The speakers (and their wiring) were worked subtley into the mullions (the aluminum separators between the panes of window glass), along with the screen's power and control signals. From within the mullions we attached seismic restraints for the flown speakers and screen, with calculations given to the screen's "pendulumnar movement arm constructs" required for powered retraction and display.
Careful, aesthetic considerations were also extended by matching the screen housing and speaker casing colors to the natural aluminum of the mullions, wall colors and more. We even coordinated a special order of Auralex custom Elite Pro panels (approx 2,500 square feet of them) at just the right shade of blue to match the original wall coloring (and the beautiful La Jolla sky).The Elite Pro Panels will serve to lower the space's RT60 (reverb time) by approximately 50%.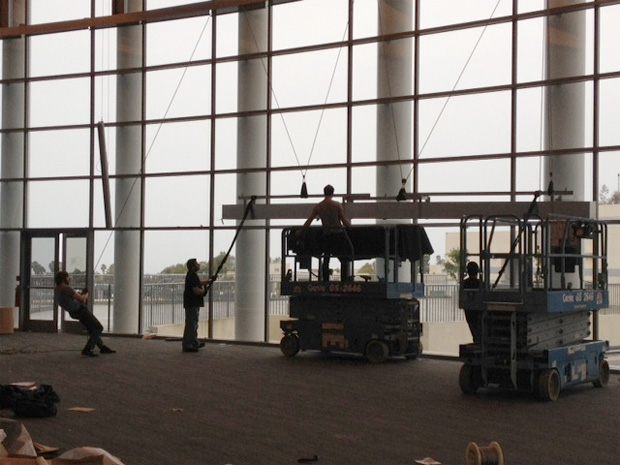 Looks aside, the sound of the space was suited with a Community Entasys speaker system for it's appropriate pattern coverage, slim profile and high intelligibility in the critical speech range for which this system will be used. Face Audio amps were used for their reliability and performance-per-price ratio that allowed us hit the appropriate budget. For visuals, a Da-Lite custom screen was chosen because of Da-Lite's engineering flexibility; their screen provided the perfect high-reflectivity necessary for such a bright room. The Christie projector is, well… a Christie projector: the gold standard in commercial HD projection.
Overall we are very pleased with the progress of this project. Completion is scheduled in about 30 days. We were able to integrate into a beautiful room an audio/visual experience to match it's architecture and grandeur. Tell us what you think!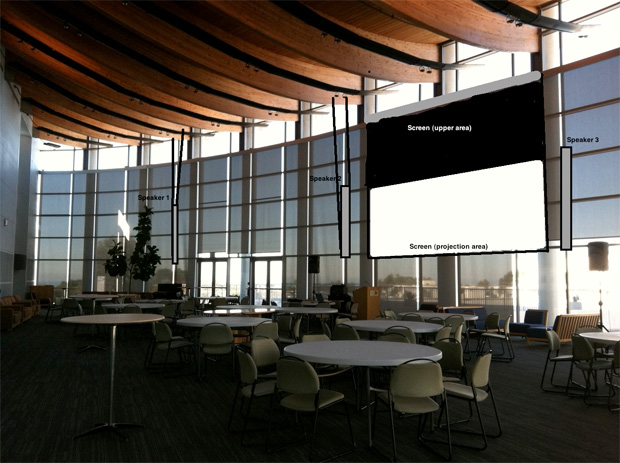 This entry was posted on Tuesday, March 6th, 2012 at 3:56 pm and is filed under
Industry News
,
Sound System Installations
. You can follow any responses to this entry through the
RSS 2.0
feed.