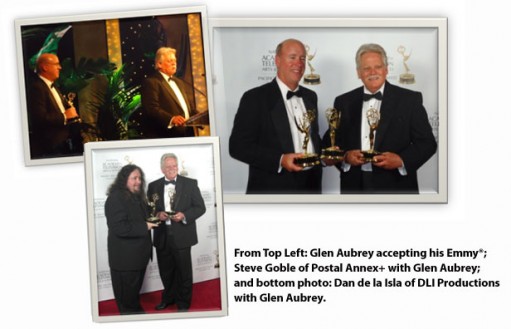 Glen Aubrey and Creative Team Resources Group have won an Emmy from The Pacific Southwest Chapter of the National Academy of Television Arts & Sciences for Musical Composition and Arrangement for Postal Annex+ "The Sound of Business" TV Commercial! "I am very honored to receive this Emmy® and to have worked with Steve Goble of Postal Annex+ and Dan de la Isla of DLI Productions," said Glen Aubrey.
Inspiration for the spot's soundtrack came from Steve Goble's experience at a Postal Annex+ training store, "As I listened to the postage metering machine, the copy and package label machines all working at the same time, each had a different sound, a different rhythm. It hit me, 'This would be a great way to tell people what we do.'"
To see the spot, and hear the original machine-sampled composition, visit www.GlenAubrey.com.
Customers Glen Aubrey and Creative Team Resources purchased CD recorders and CD duplication systems from ProSound, Inc. while Dan de la Isla (DLI Productions) got a full Pro Tools HD rig set up by us. So proud to have you guys as customers!! If you are interested to learn more about CD production gear or Pro Tools rigs, contact us here or call: (619) 583-7851.
This entry was posted on Monday, June 25th, 2012 at 3:04 pm and is filed under
Featured News
,
Industry News
,
Music Software
,
Production Hardware
. You can follow any responses to this entry through the
RSS 2.0
feed.