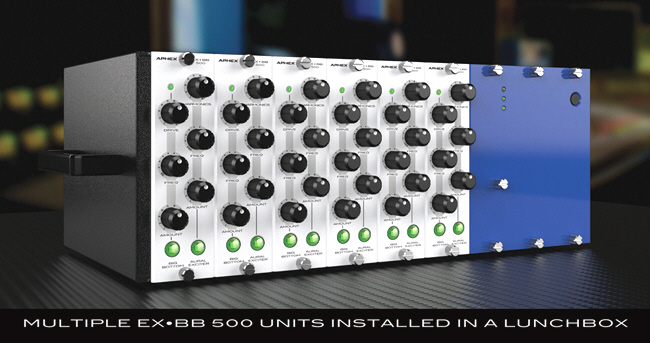 List Price: $299
ProSound Price: $249
See the EXBB 500 Aural Exciter in Our Store »
The highly anticipated EXBB 500 Aural Exciter audio processor from Aphex has arrived in a convenient lunch-box format, offering the kind of clean, crisp output matching that of top-recorded commercial CDs. Weighing just under three pounds, EXBB 500 is a quieter, cleaner machine compared to previous incarnations of Aphex Exciters. Its revolutionary technology allows users to capture lost nuances in vocals and dialogues by enhancing their high-frequencies with simple knob adjustments. For individual musical instruments, the 500 Series increases integrity by delivering more punch, though without altering the instruments' tonal characteristics.
The mono module is augmented by The Big Bottom, a built-in component that delivers low to mid frequencies smack into a listener's chest. It is equipped with separate controls for tune, drive and mix. The circuitry contours the bass response in a complex range of 50Hz to 200 Hz. Expect deep, powerful resonations, but without the unwanted level boosts associated from adding traditional equalization. Percussions and bass instruments become more dynamic as Big Bottom's powerful low-frequency spectrum exemplifies thumps and pulsations with the precision of pricier equipment.
EXBB 500 units fit into industry-standard racks from Tonelux, API, Radial Engineering, A Designs and Empirical Labs. Multiple suites afford users increased customization that engineers can easily reconfigure by swapping out modules as needed.
Who should be using EXBB 500 Aural Exciters? Industry experts say anybody trying to sell, mix or produce a record should start paying attention to this 21st Century technology. The series caters ideally to singers and songwriters, rappers, hip hoppers, rock, pop and classical musicians, voiceover engineers and orators. Apply a little "excite" at the top, plus some "bottom" on the Big Bottom and the music (live or recorded) becomes memorably ear-grabbing.
Increased harmonic detail enables specific instruments to stand out in the mix, offering a more live sound with an open, airy quality. As various instruments pop in the mixes, they are given their own sonic identities without raising the volume or dominating the other sound elements. In addition, instruments and vocals can be appointed to stand out in the mix without using equalization or substantially increasing the mix levels.
Note that the Aural Exciter uses an innovative single-ended process that can be inserted at any point within the audio chain. Essentially, the unit receives incoming audio signals and then processes the material before outputting the effected signal with no further processing needed for achieving desired aural signal qualities. While the added information is in low level, the perception is a dramatic and impressive increase in mid and high frequencies.
The EXBB 500 series was introduced by Aphex ambassador and accomplished recording artist Alan Parsons of the Alan Parsons Project. It marks an illustrious evolution of Aphex Exciters, which came into prominence more than 35 years ago when they were originally utilized during the big-hit days of The Eagles, Led Zepplin, Paul McCartney and hundreds of other notable musicians that relied on aural exciters to develop their sounds. The equipment soon afterwards snagged the attention of television and radio broadcasters, prompting the company to move its digs from Massachusetts to Hollywood. Gone are the days when the units were available only for rent at a rate of $30 per minute.
The original Aural Exciter patent showed an amplitude-dependant method for generating sonic harmonics; the higher the amplitude, the higher the amount of harmonics. In Aphex's latest patent, however, the Transient Discriminate Harmonics Generator recognizes high and low-level waveforms over a wide dynamic range, and generates harmonics onto them. The result is a natural-sounding enhancement over a wider spectrum of inputs.
For tracking and mixing, customers are able to restore presence and clarity to their works, improving transient responses of individual tracks or whole mixes.
With numerous refinements made over the years, EXBB 500 units afford portability and more spaciousness in the overall mix. Stereo images are enhanced, resulting in a greater perceived loudness without an introduction of noise into the audio paths. Additionally, the EXBB 500 is rigged with "smart" circuits that analyze audio signals in real time, regardless of file type. Microphone pre-amps are also included along with bypass buttons useful for employing the Exciter or Big Bottom separately. Artists and engineers can now freely configure the exact number of channels they prefer with unlimited flexibility and unprecedented affordability.
Together, the Aural Exciter and Big Bottom facilitate perfect balances in modern-day recordings and live performances through what is considered the most talked-about marriage in sound technology.
See the EXBB 500 Aural Exciter in Our Store »
ProSound offers free shipping of Aphex EXBB 500 units in the lower 48 states, along with a double warranty! Weekday customer service via email or phone is also provided for setup, integration and basic operations. Call now to learn more or to pre-reserve your box today: (619) 583-7851
This entry was posted on Friday, June 8th, 2012 at 3:42 pm and is filed under
Production Hardware
. You can follow any responses to this entry through the
RSS 2.0
feed.