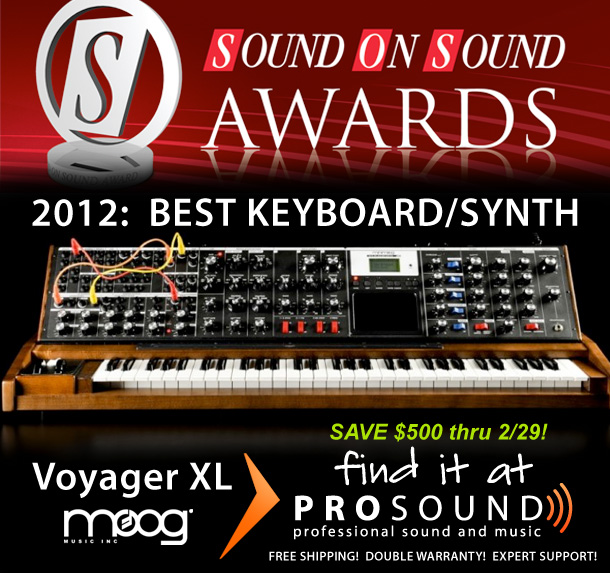 Moog's Minimoog Voyager XL, released in homage to the Minimoog's 40th anniversary, packs powerful vintage synth sound into modern machinery to deliver stable oscillation combined with Moog's legendary rugged construction. It's no surprise that Sound On Sound Magazine counted the analog Moog Minimoog Voyager XL as 2012′s best keyboard/synthesizer! Voyager XL features the signature sound derived from Moog synthesizers with 100% analog signal path delivered via 61 monophonic keys, robust MIDI control, patch storage, touch surface, and much more. If you are seeking the most sublime analogue synth for 2012, look no further than Moog's Minimoog Voyager XL.
In celebration of their 2012 S.O.S. win Moog's granted a nearly $500 discount on the Voyager XL; click here to feel these savings.
You can purchase Moog's Minimoog Voyager XL here on ProSound.com at $500 off discount with the added benefits of free shipping, double warranty, and setup support backed by 33.333 years' experience in professional audio. The discount is only eligible through February 29th, 2012 so act or inquire now! Have questions? Contact us here, ask us anything!!
Get Minimoog Voyager XL Now! $500 OFF! »
OR, swing on by our San Diego showroom and check it out!
This entry was posted on Wednesday, January 25th, 2012 at 5:44 pm and is filed under
Analog Gear
,
Industry News
,
Synthesizers
. You can follow any responses to this entry through the
RSS 2.0
feed.