This is a long story told short. There were hundreds of anecdotal road-horror sub-stories beneath this, and a long, circuitous path from the start to the end. But in slicing those all away we begin a long time ago in a faraway place known as West Lafayette, Indiana, with a band called Bandanna.
The group became well-received in Indiana for their little acid-country-jazz-rock music, and eventually, after becoming a big fish in a very small pond, they set out for the big time of California.
Touring their way West in an old school bus, they eventually landed in San Diego, where they thought they had a gig at Dick's-at-the-Beach, only to be told upon arriving, "Naw, never heard of you guys, there's a nine-piece horn band from Chicago playing here tonight."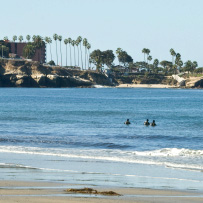 Bandanna broke up, leaving John Baker (vocals, sax and slide-guitar), Jeff Grogg (drums), Ed Eastwood (guitar) and Mike Krewitsky (keys) here in San Diego's paradise of palm trees, beautiful weather, girls in bikinis and fish tacos.
Shortly afterwards they teamed up with Ed's brother, Tom Eastwood on bass, and formed the first version of Actual Size. There is one rare recording (unreleased) called 6 by 5 out there. Later, after much battering by life, Actual Size reformed with John, Jeff and Mike and Steve Burgess (guitar) and Reid Webb (bass). In 1979, bands practiced a lot, and Actual Size, following that path, started to sound pretty reasonable.
About half past 1980, Mike and Jeff, as a fledgling version of ProSound, landed the gig to supply and outfit the young Belly Up Tavern with sound treatment, sound system, and the most fun of all, a recording studio behind the stage based on a new Otari 8-track 1/2″ tape recorder.
Actual Size's collection of eight songs represents, probably, the first recording done at the Belly Up, with Tim Schaeffer at the board. Shortly after, the band died from many of the usual stupidities that came with being in a band around that time — lack of communication between band members, giant egos, no money and lack of realistic record-company interest mixed in with generous helpings of girls, drugs, day jobs, babies and overall dumbness.

Below is a batch of original, never-released songs by Actual Size (the 1980 version) from that night at the Belly Up, all performed live and called 'As Shown.' Their original recordings were a bit questionable in quality by today's standards, but the gig's performance was fun and club-worthy.
Fast forward to 2012 — and guess what? Music technology has improved and we now have tools to make these recordings sound much better with noise-reduction equipment like Waves Restoration and iZotope RX2 plus mastering tools like Waves Masters and iZotope Ozone 5 and the wonderful Waves Vintage Aural Exciter to put back the sparkle and bang that time left out.
These MP3 versions have been carefully prepared (July 2012) using Apple's guidelines 'Mastered for iTunes.'
Shoeshine Boy
Thunder and Lightning
Video Queen
The Wave
Crush on Chromium
1957
Dancing in the Darkness
Recharge on My Soul
Enjoy! And let us know what you think. Also, if anybody cares, we can maybe dig up a copy of 6 by 5 and scrub it up, master it and post it here. It took only 32 years after all. Thanks for listening!
This entry was posted on Friday, July 27th, 2012 at 10:19 am and is filed under
ProSound Featured Artists
. You can follow any responses to this entry through the
RSS 2.0
feed.