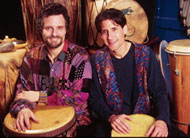 David and Steve Gordon have consistently pushed the borders of ambient music, world music and chill out electronica during the course of their 30+ year music career. Co-founders of Sequoia Records, David Gordon is an award-winning composer, pianist and multi-instrumentalist while his brother, Steve Gordon, is also an award-winning composer, multi-instrumentalist.
The Gordon brothers were the first to compose music for natural environments, and to combine ancient world instruments with modern electronica, making them the acclaimed artists they are today, having grossed over 1.6 million units in sales worldwide.
Hear samples of David and Steve Gordon's music here: SequoiaRecords.com/david-and-steve-gordon.html
See all artists on the Gordon's label and read more about them here: SequoiaRecords.com
This entry was posted on Wednesday, April 11th, 2012 at 8:25 pm and is filed under
ProSound Featured Artists
. You can follow any responses to this entry through the
RSS 2.0
feed.