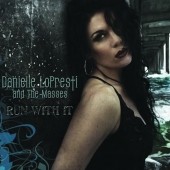 After an extensive, 7 year background making her living writing and recording for The Nutty Professor, Sony Jazz, VH1, Lifetime, Clear Channel, and a long list of Independent Film, TV and Recording projects in the mainstream music industry in Los Angeles, LoPresti formed Say It Records in 2001: an independent activist record and production company through which she releases Danielle LoPresti and The Masses' albums. LoPresti's music brazenly takes on the socially conscious themes that many musicians shy away from lest risking "breaking the mold": identity, autonomy, domestic abuse, homophobia, sexism, racism, political corruption… Her passion has shared the stage with artists such as Jamie Foxx, Metric, Semi Precious Weapons, Beth Hart, David Byrne, Far, Veruca Salt, Cyndi Lauper, Juliette Lewis, Jonatha Brooke, En Vogue, plus many more. The most recent release, "Run With It" is a 22-track album behemoth featuring special guests Julie Wolf, Andre Berry, Larry "Wolfman" Antonino, plus many more.
LoPresti is also noted as founder and producer of the revolutionary and history-making, San Diego IndieFest – the nation's first and only exclusively independent music and arts festival.
This entry was posted on Wednesday, April 11th, 2012 at 7:31 pm and is filed under
ProSound Featured Artists
. You can follow any responses to this entry through the
RSS 2.0
feed.