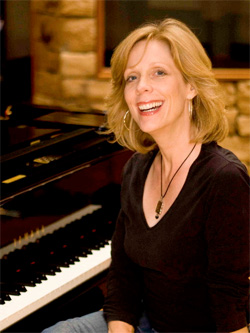 Principal composer, arranger, producer and lyricist Marti Amado and her team have been producing original music for television, advertising and animation post-scoring, and creating top-notch production for artist-songwriters for almost twenty years. Winner of a Pro-Max Gold Medallion Award, Marti has created music in myriad genres for clients in the U.S. and abroad, including: Warner Brothers Films, Universal Music Publishing, "Entertainment Tonight," LEGOLAND's Pirate Shores Attraction, Cheverolet, Ford, Sears, Qualcomm BREW, Big Sisters and many more.
Amado has worked with top international and San Diego regional artists including: The Muppets, Jewel, Kim Carnes, Kenny Rogers, Berkley Hart, Leonard Tucker, Eve Selis, Peter Sprague and Billy Thompson. With a degree from Northwestern University's School of Music, Marti Amado is jazz and classically trained as a pianist, arranger and vocalist.
We are proud to have Marti as a happy customer at ProSound.com. See samples of her work, and more information about the work her and her team can do, on her website at: AmadoMusic.net.
This entry was posted on Wednesday, April 11th, 2012 at 3:13 pm and is filed under
ProSound Featured Artists
. You can follow any responses to this entry through the
RSS 2.0
feed.