Nü Classical Music for the 21st Century.
A SONIC FUSION OF HIP-HOP, HOUSE-LOUNGE-TECHNO MEETS MODERN-CLASSICAL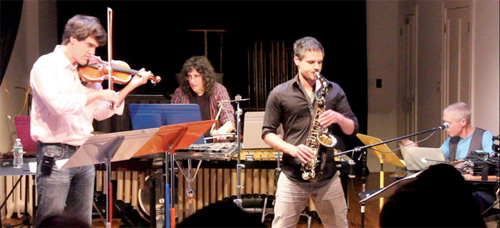 Since their 2006 debut at Kosovel Hall in Ljubljana, Slovenia, SWARMIUS' Nü Classical/ Avant-Pop music and performances have won fans the world over, including: Ireland, Germany, Slovenia, Poland, Sweden, Italy, Japan, Mexico, Canada, and the United States. They've two albums to date, each boasting catchy hooks, soaring melodies & multi-level syncopations that draw from rock, jazz, the Yoruba music of Nigeria, Eastern European Klezmer, Indonesian gamelan, electronica, hip-hop, vaudeville, European classical and more.
SWARMIUS' Joseph Waters is currently performing, "Surf" – a "classical-meets-rock-and-roll wild ride for orchestra and two soloists" that he was commissioned by Orchestra Nova artistic director and conductor Jung-Ho Pak to create as part of new concert series called "Nova Goes Green." Some articles on this project follow:
http://www.sandiegoreader.com/weblogs/jam-session/2012/may/14/surf-swarmius-takes-orchestra-nova-to-the-beach
http://www.kpbs.org/audioclips/14224
http://www.utsandiego.com/news/2012/may/02/Joseph-Waters-Surf/?print&page=all
Be sure to catch SWARMIUS performing with the Surfaris at the Belly Up on Tues. July 17 – a kick-off to the 50th Anniversary Wipeout Tour! Read more and explore their music at Swarmius.com.
This entry was posted on Wednesday, April 11th, 2012 at 4:02 pm and is filed under
ProSound Featured Artists
. You can follow any responses to this entry through the
RSS 2.0
feed.