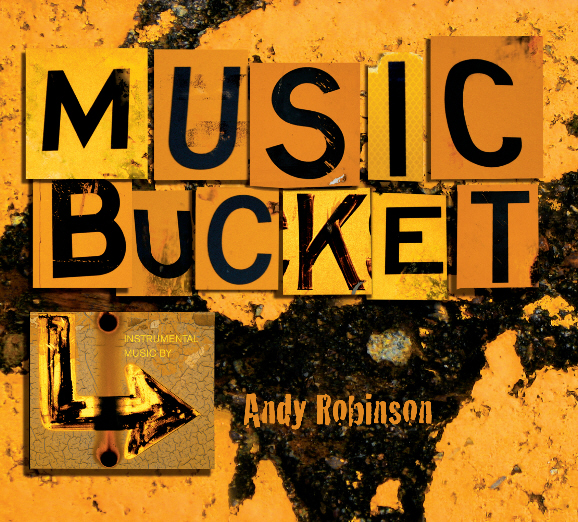 Since breaking from his progressive rock band days in San Diego and a wide variety of musical projects in Los Angeles, ranging from synthesizer pop to folk rock, Andy Robinson has excelled as a solo recording artist, reveling in the creative freedom to master numerous instruments for compiling songs stamped with reflective moodiness and unshakable melodies.
The mountain dulcimer is a particular favorite that Andy uses for achieving Tibetan-style undertones, which are evident in Supersong, a beguiling track from his most recent CD titled, Music Bucket.
"Because the mountain dulcimer is set up to be played in open tunings, a lot of what I play can sound like it has a far-Eastern slant," he says. "With Dennis Caplinger on violin and octave violin in the song, you get that beautiful droning thing."
In the track, Boojy, Andy switches gears to an upbeat vibe, using voice and a dulcimer riff that cops a 60s boogie feel, reminiscent of the classic sounds put out by Canned Heat during the era.  From the first song to the last, the entire CD offers varied compositions attesting to Andy's instrumental aptitude.
"The only reason I pick up a particular instrument is because I want to write something and record it," he adds, referring to his keen abilities for playing kalimba, drums, percussion, harmonica, guitar, bass guitar, keyboard and bass synthesizer.
Music Bucket marks a technological evolution for Andy, in that he produced the CD on a computer with Logic software. His previous CD, Exotic America, was compiled on a Roland VS machine. "I went kind of nuts expanding my palette," he says. Indeed, listeners will discover that Music Bucket carries more of an electronic edge, though without subscribing to the conformities of overdone studio works.
"I record mainly at home. Or sometimes I'll go to a musician's house and bring my gear," he adds.
With nearly a half dozen albums and CDs under his belt incorporating fresh sounds, Andy's musical past stretches back a few decades ago when he was signed to Arista Records and recorded 12 tracks with a power pop band named Elton Duck, for which Andy played drums. The band had a loyal following and had opened for The Tubes in a few cities. At a live showcase, the band grabbed the interest of Clive Davis, although as they recorded their debut for the label, Davis changed his mind and ended up shelving the album. But the works weren't completely left for dead.
"After all these years later, they've come out in limited run," notes Andy.
Sony Music Entertainment now owns the Elton Duck tapes and has allowed release of the music as long as the proceeds go to a charitable music education fund. With a listening party scheduled on July 13 at Stinkweeds Record Exchange in Phoenix, a fund was set up in the name of Elton Duck's late guitarist. Anyone who donates a minimum of $20 to the Mike Condello Music Scholarship Fund will receive a copy of the limited-edition CD.
Andy currently produces videos full time for the Neil A. Kjos Music Company, which publishes sheet music. But that hasn't stopped him from generating new, unique material as a solo artist.
"I'm hoping to get something new out by August, a mini suite of songs," he says, admitting that he takes longer with the overall creative process compared to most other musicians. "I draw all of my inspiration from hearing sounds that I like. I come up with melodies and throw together chord progressions and then decide what kind of instruments I want to apply to them."
Over the years Andy has relied on ProSound for repairs and advice, as well as PreSonus audio interfaces and various microphones and accessories.
This entry was posted on Friday, June 29th, 2012 at 5:52 pm and is filed under
ProSound Featured Artists
. You can follow any responses to this entry through the
RSS 2.0
feed.