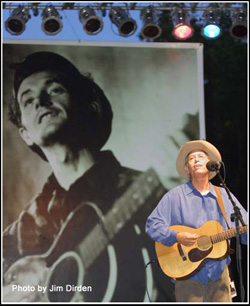 With roots as a performing songwriter in Southern California small clubs and showcases since the late seventies, Rafael's collaborations and independent work has been well-received nationwide, as an opener for touring acts from Rick Danko to Emmy Lou Harris, including John Lee Hooker, John Stewart, Laura Nyro, and Taj Majal. In 1981, Rafael toured the southwest with Jesse Colin Young, and released a debut album, Dharma Bums. 1994 marked the emergence of the Joel Rafael Band which received national airplay as well as tours and co-bookings with both Joan Baez and John Trudell. Rafael was awarded Kerrville Folk Festival's "New Folk Emerging Songwriter Award" in 1995, an honor he's been a finalist for twice. Yearly you can catch Rafael perform at the Woody Guthrie Folk Festival, for which he was recognized as a "Woodyfest Ten Year Club" member in 2007.
Rafael has released five original albums chronicling his life and experience, expressed in a refined poetic candor. His 2008 album, Thirteen Stories High, features contributing background vocals by his friends David Crosby and Graham Nash. Albums Woodeye, and Woodboye, each set out to honor the songs of Woody Guthrie. Rafael also has composed music for Guthrie, which is featured on a 2012 Inside Recordings reissue as the two-CD set, The Songs of Woody Guthrie, Volumes 1 and 2. He also currently serves on the Board of Directors of Folk Alliance International.
Joel Rafael looked no further than ProSound.com to gear up with ProTools 10 and Universal Audio's LA-610mkII, two Universal Audio 710 preamps, and a new Universal Audio Apollo Quad!
Definitely check out Rafael's most recent release: "Occupy This Album: A Compilation of Music By, For and Inspired by the Occupy Wall Street Movement and the 99%," an all-star album with proceeds set to benefit the Occupy Movement. Also, be sure to look out for his upcoming "America Come Home" due for release on July 17, 2012!
This entry was posted on Tuesday, June 12th, 2012 at 1:20 pm and is filed under
ProSound Featured Artists
. You can follow any responses to this entry through the
RSS 2.0
feed.